2017-02-03
Many roofs are made of conventional materials like asphalt. Due to its affordability, asphalt roofs tend to replace wood and clay systems more and more. This economical material is stronger than it used to be in past years, and comes in a variety of styles, some resembling slate or wood. Many asphalt shingle options are also energy efficient.
The downside to asphalt shingles is that your roof must have a steep slope, otherwise they cannot be installed properly. Moreover, asphalt roofing is not suitable for areas with sudden changes in temperatures because the shingles are likely to crack.
Slate pros and cons
For a timeless look, consider asking your roofer in Fredericksburg to install a slate roof instead. Aside from beauty, slate has other unique properties, including strength and durability. Most roofing systems last no more than 30 years before needing replacement, but slate lasts 100 to 150 years when built properly.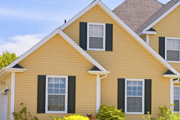 Furthermore, it is resistant to fire and water, environmentally friendly and it requires minimum maintenance. Unlike asphalt shingles that have to be replaced every 20 to 30 years, slate does not produce much roofing waste, given that it typically lasts a century.
A major downside is the high cost of the material itself, amounting to anywhere from $1,000 to $8,000 per square installed; most homeowners reportedly spend between $4,000 and $9,000 on a new roof.
Since slate is so fragile and so tough to install, you will need to hire a specialist slate roofer. However, it is not easy to find one, and it will likely cost you more than your typical roof installation.
Slate tiles also weigh considerably, so having the structural strength of your residence evaluated beforehand is a good idea. You will need to make sure the building can take that much weight before actually installing your slate roofing system.